Arogyam is a motorcycle ambulance system run by the district administration at Panchkula, Haryana to reach these unserved geographies in the hilly areas. The system consists of a set of 6 paramedics who man motorcycle ambulances consisting of a 150cc motorbike fitted with a sidecar stretcher.

The bikes are stationed at designated locations amidst at 6 different clusters of Gram Panchayats (GPs) to cover all of Morni and the Hilly areas of Panchkula. The Emergency Health Relief Services through the initiative are offered to the public, free of charge.

An Arogyam unit carries a kit to administer multiple services, which can go upto 20 when the service is planned. The most common services being offered by the Arogyam unit are:


Attending to physical injuries, some needing immediate attention and stabilization of the patient
Attending to old-aged patients who need blood pressure and Diabetic Check Ups
Attending to cases of severe symptoms of fever or breathing difficulties
Transporting critical patients to and fro from home and the Primary Health Center (PHC)
Transporting the ANM to most and often difficult-to-reach Anganwadi Centers to administer vaccinations
Administering injections for TB
Carrying blood samples from the sick
Arogyam also spreads awareness in government schools on basic health issues when required by the health department.
The Access to frontline health services is a major challenge, with public demands for more government Primary Health Centers (PHCs) in the hilly Areas of Panchkula, Haryana. Often villages may not have transport facilities and may have to walk about 6-7 Kms to avail a health facility. Photographs below give a sense of the unserved hamlets in the area.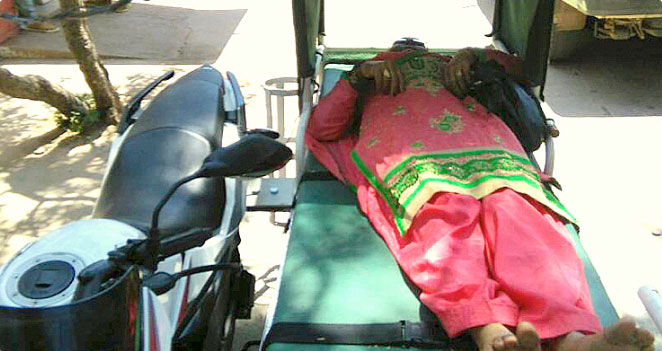 1. Increase in Immunization
With the help of the Arogyam , frontline health workers such as ANMs and Anganwadi Workers have been able to reach difficult-to-reach areas on a frequent basis

2. Timely intervention on Critical Cases
The Arogyam has been invaluable in bringing in critical patients, who have been stabilized after they reached the PHC.

3. Access to last mile healthcare
From helping deliver a 48-day injection program to a TB patient to ensuring course of medicine for diabetes for the elderly, the Arogyam program has created access to last mile health-care in the hilly areas of Morni, by way of a simple phone call. So far the system have been able to attend to more than 4000+ health cases.
Recognition so far
The project was launched by the Chief Minister of Haryana , Shri.Manohar Lal Khattar in May 2017 in Panchkula, Haryana The Project was awarded the Skoch Order of Merit award ( for health services) for the Top 50 projects under the Swacch Bharat Abhiyan, Govt. Of India
G
o

2C'

s

Involvement

Go2C works with the District Red Cross Society and the District Administration at Panchkula to ensure the Aarogyam reaches its intended geography and audience, while helping increase implementation efficiency. Go2C has also helped support the Aarogyam by bridging gaps in the intiative through direct interim funding.

For more information, please visit the project website
www.redcrosspanchkula.com/arogyam