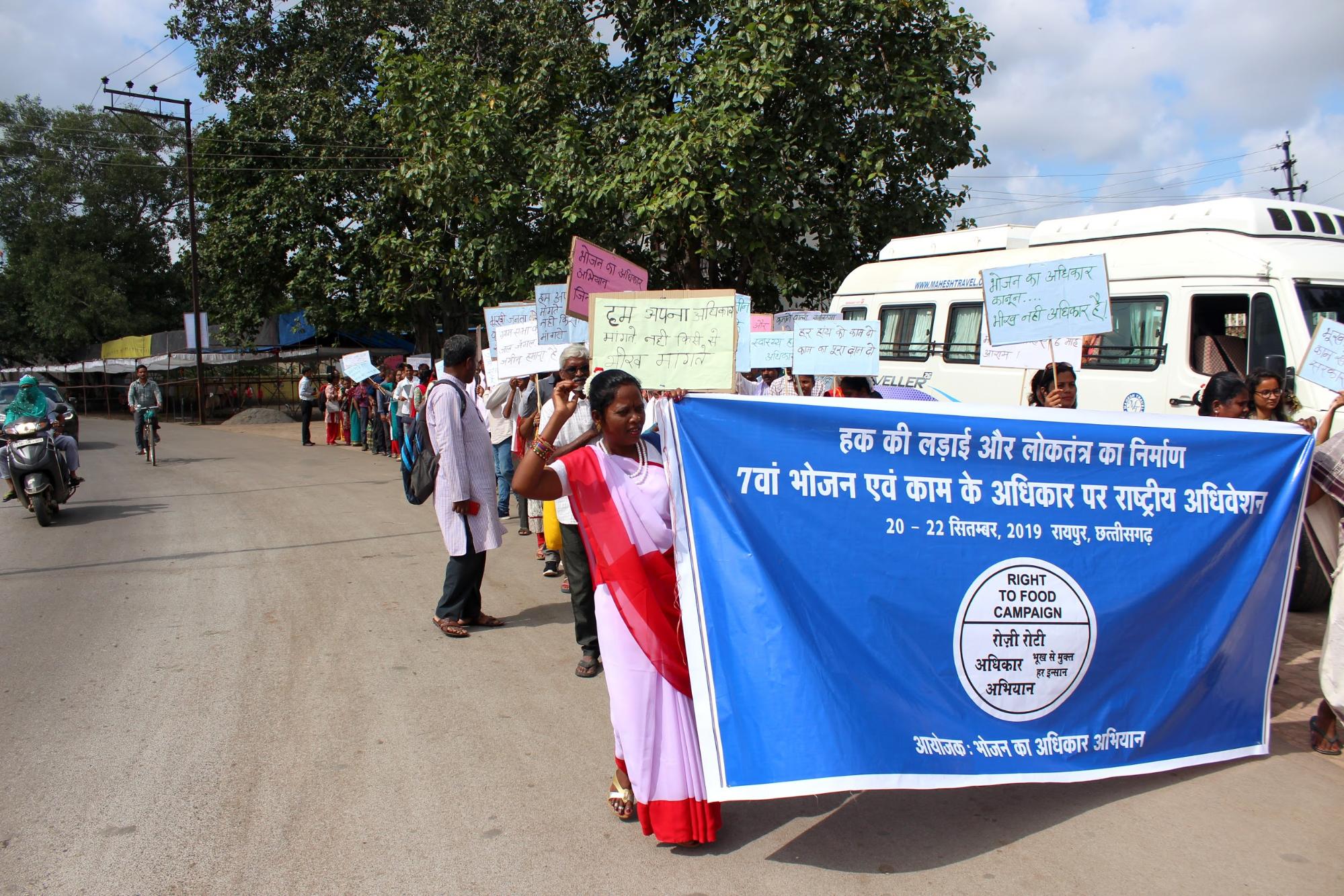 To discuss and work through some of the worrying trends seen across the country such suppression of basic rights of common citizens across the breadth of India, about a thousand people under the campaign came together as a collective under the 7thNational Convention on the Right to Food and Work at Raipur from 20th -22nd September 2019.

The entire event began with a rally of activists within the town center of Raipur on seeking solidarity on a fight against hunger, undernutrition, unemployment and a commitment to social justice in the state of Chattisgarh. Eminent activists, field workers and various entities in solidarity with the causes espoused were a part of this rally. Soon after a plenary was held with a call to introspect, reflect and critical analyze trends in governance and the state of the poor in the country. The first panel post the plenary was held by the coming together of local activists and champions of rights from the Mahila Mukti Morcha Leaders to children from Shaheed School, Raipur. In the panel were also Savita Rath, Alok Shukla, Ashwini & Keshav Gurnule.

Having struggled and worked through issues of national food security and rights to employment at a national level, the workings and impact of the Right to Food Campaign (RTF) have paved the way to landmark legislation such as the Right to Information Act 2005 and the National Food Security Act 2013. While these legislations have the potential to bring sweeping changes towards ensuring legal guarantees to food, employment, natural resources, education and access to information for the poorest of the poor in our country, much needs to be done to ensure the implementation of these legislations in letter and spirit. Many of the welfare programs mandated under these acts have been perpetually underfunded. This has had a significant impact on the poor and marginalized, while linking some of these schemes to several inappropriate technologies such as AADHAAR has lead to exclusions potentially leading to starvation and malnutrition. The Convention also brought out facts to establish that a lack of profitable pricing of produce along with the withdrawal of multiple subsidies in agriculture, has caused widespread rural distress and a massive reduction in rural employment.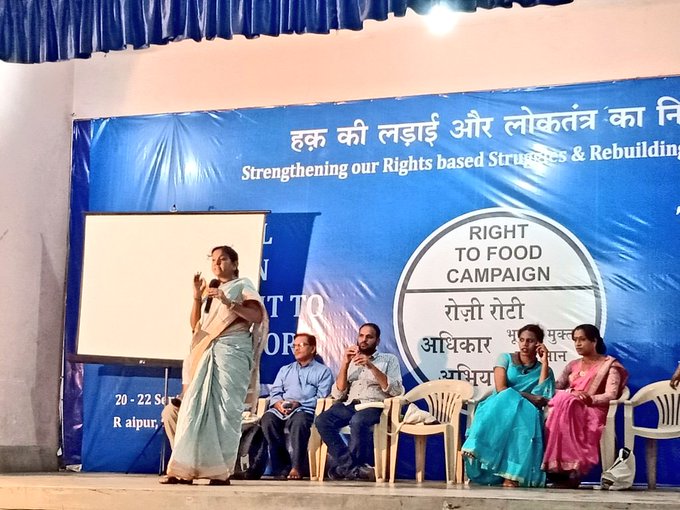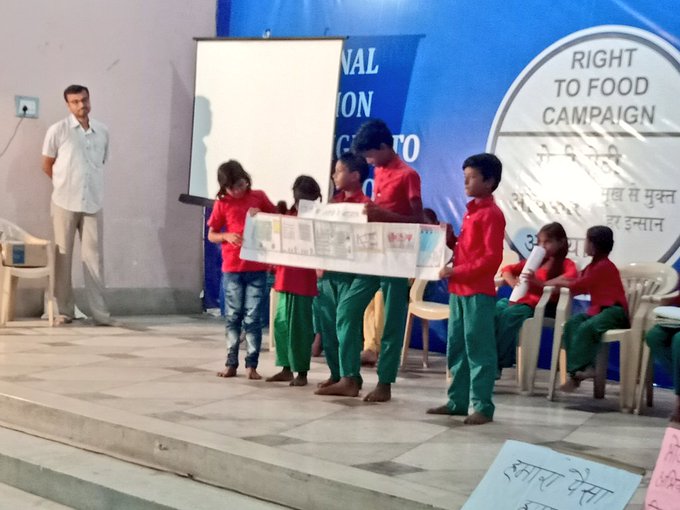 Savita Rath and children from Shaheed School Presenting the first plenary of Day 01
Various issues of everyday citizens from the state were brought to light through song, music and poetry and through the voices of these little children before the panel started.
The plenary panel narrated the status of what inclusive development has really looked like for the mineral-rich state of Chattisgarh since its inception on Nov 1, 2000, under various regimes that have governed it.They focused on the degradation of flora, fauna and the exploitation of land without any protection for their vulnerable natives. The panel highlighted that over the last decade there have been no legislations to defend about 12,000 villages around the peripheries of forests,which were cut away due to increased mining. About 1 lakh hectares of forest have been lost so far, leading to massive displacement of people. Further, the panel also highlighted the oppression on the freedom of expression, against exploitation of tribal land and protection of resources mandated under existing provisions of law when the state was under the BJP Government earlier. They also narrated the extent of corruption in the mining of coal and inaction by those meant to protect the law, as highlighted by the
Caravan
.
The panel also covered issues in the public education system in Chhattisgarh, wherein nearly 3,000 schools ceased to exist as they were
merged
with nearby government schools as a part of a school rationalization policy by the government. Therefore many children from the villages, who do not have schools nearby now, struggle to travel far to reach their point of education, forcing them to drop out. Alok Shukla of
Chhattisgarh Bachao Andolan
reminded the audience of his dream of strengthened forest and farm-based economies in the state, which were still unfulfilled. The panel ended with a call to be vigilant in fighting for the
Forest Rights Act
2006 (FRA), Panchayats (Extension to Scheduled Areas) Act 1996
(PESA)
, Food security provisions (
NFSA
2013) and National Rural Employment Guarantee Act (
NREGA
).
Through a panel chaired by
Gangabhai from Chaupal
, Kavita from RTF, Activist
Ulka Mahajan
,
NCPRI
head Anjali Bharadwaj, Social Activist
Bhanwar Meghwanshi
and author
Sopan Joshi
, the audience was made aware of challenges threatening the foundations of democracy and its institutions, both at the policy and implementation level. They covered issues ranging from the lack of teeth in the current PDS systems in terms of reach, to the most underserved areas to suppression of democratic expressions in Kashmir, the dilution of law, such as the Right to Information (RTI) Act 2019
Amendments
that significantly
reduced
the government's accountability to the people of India. Alluding to the 150th birth year of Mahatma Gandhi, Sophan shared very interesting insights on the Mahatma's life, work and his possible responses to the current times.
Gangahbai mentioned that the RTF mission at Chhattisgarh has been taking up issues concerning PDS rations, violations in Forest Rights and land rights in Surguja, Rajgarh and other places. He also said that labeling of Adivasi movements as Maoist is deeply concerning, especially since the means of struggle have been non violent & democratic.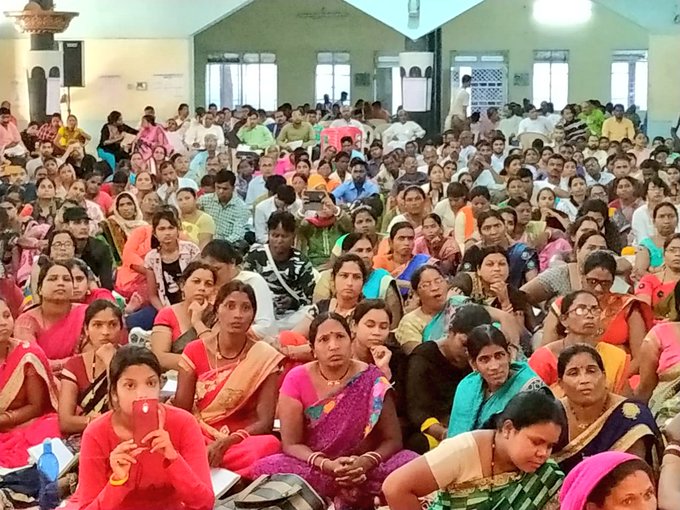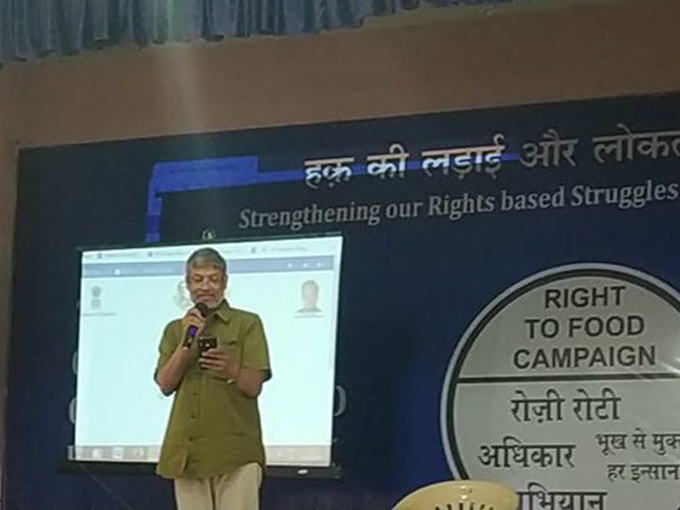 The audience listens to the panel of which Nikhil Dey, of MKSS, was also a part
At the RTF Steering Committee meeting, various rights-based struggles and successes were discussed by state level steering committees of the Right to Food campaign in the presence of the General Body and the National Steering Committee. Some of the steering committee members present were the leaders from People's Union for Civil Liberties (
PUCL
), National Alliance for People's Movements (
NAPM
), Jan Swasthya Abhiyan, National Campaign for People's Right to Information (
NCPRI
), Bhartiya Gyan Vigyaan Samiti (
BGVS
), National Campaign Committee for Unorganised Sector Workers (
NCC-USW
), National Campagin for Dalit Human Rights (
NCDHR
), New Trade Union Initiative (
NTUI
).
The issues discussed covered a large spectrum: from the work of members who helped resolve corruption challenges in ICDS and PDS systems to acts of strengthening Social Audits and Community monitoring at the grassroots. They also covered gaps on how AADHAAR linked welfare had led to exclusion of tribal communities from essential access to food supplies. Members also highlighted their work done on starvation deaths in UP and Jharkhand in terms of fact-finding missions by RTF members.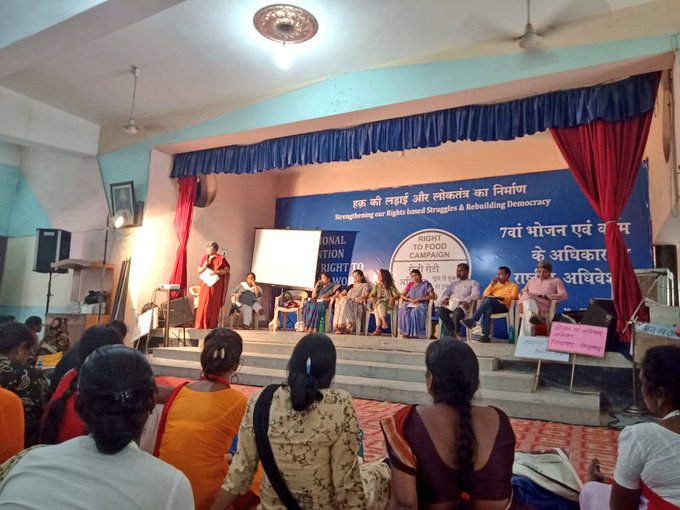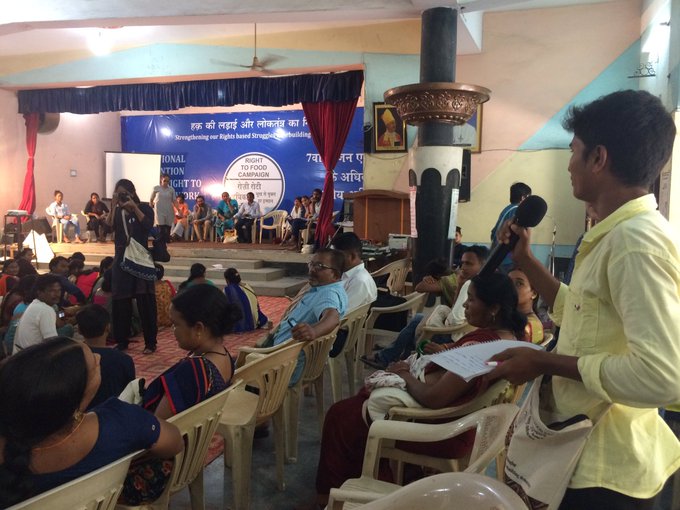 In keeping with the developing trend of overall aversion to eggs in nutrition programs by other BJP governments, the government in Jharkhand decided to
reduce the number of eggs
supplied per week to children under the mid-day meal scheme from three to two.The Chhattisgarh government is also facing pressure to
curtail their nutrition programs
that include eggs. The Jharkhand RTF members expressed concern over these programs, as eggs have proved to be very good source of nutrition through Mid-day meals for these populations, the majority of whom consume eggs readily. Given that the indicators of malnutrition are significant in both the states, they were planning to meet the Principal Secretary of the School Education and Literacy Department, Government of Jharkhand, in this regard.
The National Secretariat spoke of the immense challenge of being a forum of rights based organisations. The Secretariat also spoke of how CSOs speaking of ground realities are not welcome in the corridors of governance and challenges of representing the forum, at the National Human Rights Commission (NHRC).
What was really breathtaking to see was the intensity and diversity of the network and their engagements with issues local to them: for example members from West Bengal were engaging with rights based issues in tea gardens whereas those in Patna were engaging with rights for their city's slum dwellers. In many cases, the unemployment allowance as mandated under the National Rural Employment Guarantee Act (NREGA 2005) were not being given out and the RTF network led deliberations/demonstrations, engaging on these issues with government levers.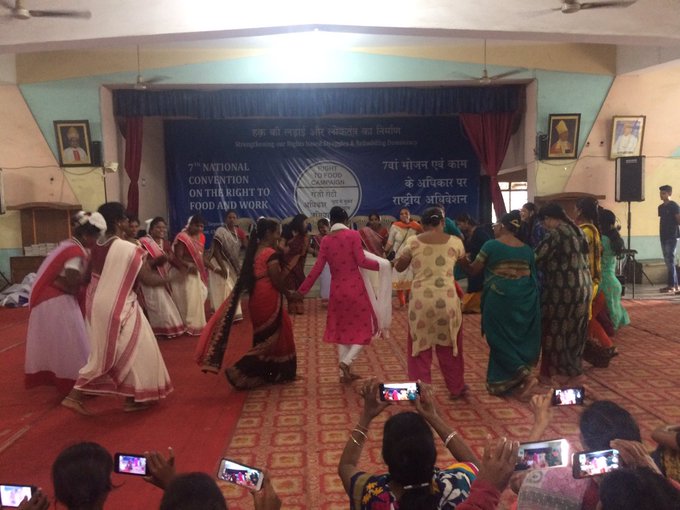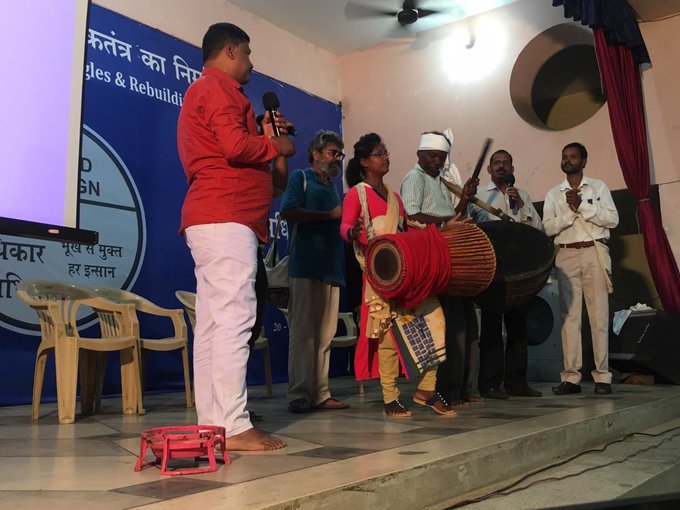 The second day started with a Plenary session on Hindutva, with conversations on Kashmir and on survivors of violence there.
Ram Puniyani
, who was the first speaker of the session spoke of how Hindutva has nothing to do with Hinduism, is merely a political ideology. He set various facts straight in terms of how history was being misinterpreted in the country (from Mohd. Ghazni's quests to modern Indian history). He also expressed concerns on the kinds of fascist comments being made in the Indian context. Post this, members led by Jean Dreze & Nikhil Dey spoke of first hand accounts of suppression of human rights documented through their visit to Kashmir undertaken recently and their findings. Thereafter their film,
Kashmir Caged!!
was screened to the audience. Through the entire discourse, they sought to drive home the fact that right to freedom and right to food were very closely linked, and that rights-based expressions of freedom and dialogue were necessary for providing access to basic necessities through the mandate of a welfare state.
Next, Breakaway sessions were held on the following sectors:
PDS & Community Kitchens
Children's right to food and malnutrition
Maternity Entitlements and Creches
Pensions
Homelessness, Urban Poor and Democracy
Kitchen Gardens and Uncultivated Food
Inclusion of local food crops/varieties in PDS, ICDS/MDM
Trade Agreement threat on agriculture
Gender Dimensions of the workforce, Unemployment, cause & effects, Present situation of Rural Employment Guarantee Act (NREGA)
Labour Code
Jal, Jangal, Zameen & Mining
Accountability & Grievance Redressal
Many of these sessions sought to highlight the challenges and potentials of interventions that are being deployed in each of the sub-topic issues. They also broke down the inner workings of specific thematic issues, and on the status of implementation of the same in various states of India.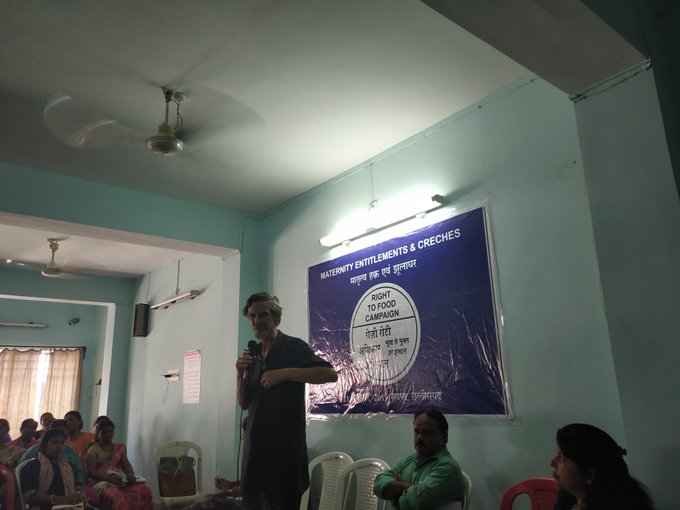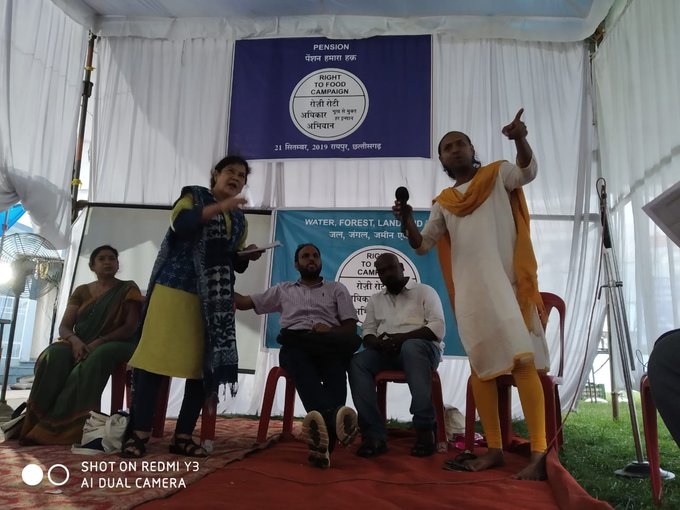 Snippets from the sessions on Maternity Entitlements & Creches and Pension Sessions
For example, the session on nutrition sought to highlight and diagnose various issues in nutrition across the country.
Dr.Yogesh
was the first to speak at the session. He highlighted the fact that sanitation in rural communities was being overly linked to the state of undernutrition, while hunger and hidden hunger would have been actually been the root causes. Both poor sanitation and hidden hunger are causes of undernutrition, stunting and wasting. While Diarrhoeal diseases due to poor sanitation severely inhibit gut nutrient absorption, it must be looked at as a secondary cause if hunger and hidden hunger are already present. He also spoke of the need for better institutional care and support for malnourished children in India. Post this, various questions on the issue were taken note of and catered to by various speakers from the forum. The speakers also highlighted that nutrition was a social issue and communities need to be empowered in better understanding of nutrition.They also argued that the food in anganwadis cannot be packaged 'ready-to-eat' food, but nutritious food sourced from local sources and that that would in turn generate employment in those places. They also expressed their concern of eggs, which were a great source of nutrition, becoming a political issue.
The sessions on agriculture spoke of interventions from seed conservation to natural farming practices and moving from cash crops to sustainable mix cropping methods. The organisation Focus on the Global South brought to light
issues that could hit vulnerable farmers in the country
if the government were to sign free trade agreements for commodities in India through the potential Regional Comprehensive Economic Partnership (RCEP), which has sixteen members that include ten members of the Association of Southeast Nations (ASEAN). Fortunately, India has refrained from signing the
RCEP
on account of a set of reasons.
At the session on homelessness and the urban poor, a participant highlighted the sexual violence on Adivasi women and girls who are forced to migrate to urban areas for work.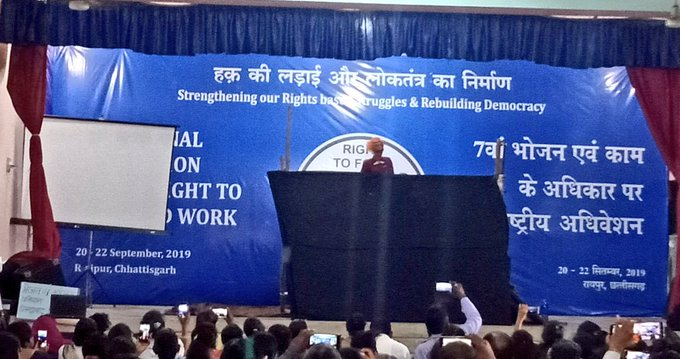 On the final day a new Steering Committee was introduced. There was then a session for the youth, by young leaders at the Right to Food campaign forum. This forum of young leaders kept the session very open ended to accommodate questions of the delegates and young participants. A variety of rights based questions were discussed. For example, Umesh from Sarvaha Jan Andolan Maharashtra asked "Why do people who demand their rights branded as anti nationals?" Nikita from Red Brigade Trust Lucknow further probed "Why aren't young girls and women given the same freedoms as boys and men? Why don't young women have the freedom to move around freely?"
Time was also taken out for state RTF campaigns & committees to sit together & reflect on their learning and select representatives for steering committee. They also utilized the opportunity to plan for action in the coming months.
The event ended with a note of commitment in solidarity with a struggle towards justice, to stand up for one's rights at this critical juncture in our democracy. I was encouraged to do using creative means just like Chandrika Ji (below) who through her Pandwani performance, made a plea for locally procured nutritious food like kanda (tuber) and bhutta (corn) in nutrition schemes under the ICDS and Mid-Day meals schemes in her local community.